WHITE GLOSS SAYA WITH RAY SKIN INLAY + BLADE ENGRAVING

DEEP RED GLOSS SAYA WITH RAY SKIN INLAY + MATCHING ITO/SAGEO
I received my order today and it was well worth the wait, I have a folded steel katana with full ray skin wrap and a brown wratten wrapped saya with gold fleck. The full wrap makes the sword feel good in the hand and the tsuka ito is of good quality to top this the blade has good balance the wratten wrap provides good grip and the saya comes alive when the sun hits the gold flek which I have to say makes the finish is amazing. The tsuba does not look like the massed produced tsuba of others giving the sword its one of a kind finish, to top this I have a matching tanto with matching saya but with a full ray skin wrap tsuka which looks and feels amazing.
All in all I would say this is the best value for money katana that I have seen and made to your spec making it a one of a kind and far better than the mass produced katanas else where.
If your looking for a sword I highly recommend you talk to rod.
Sensei Ray House
hardpoint@hotmail.co.uk

MATT LAQUERED HACKBERRY WOOD SAYA AS PART OF DAISHO

I ordered a katana Sword from Rod for my fiancé as a surprise present as he's quite an expert in using these and also has a lot of knowledge from over the years.
Personally I did not have the first clue about them, after speaking with Rod I have a much better understanding and I have learnt a lot.
Rod is an absolute pleasure to deal with, he is very helpful and most important he is genuine and very trustworthy and also has the wealth of experience and will help you find what is suitable for you at exceptionally good prices .
My fiancé couldn't be happier when he received the Katana, he has quite the collection now but this one is by far his favourite.
By nature I am a very meticulous and fussy in all aspects, what I admired when dealing with Rod he does take pride in his work and what manufactures he deals with, that's a very rare quality to find these days when doing business, it's ok going to larger companies but the service is never quite the same. I prefer to deal with smaller companies like Rod as they appreciate the business so much more and it's nice to support them as it's their lively hood so you know you will get a second to none service. People automatically presume a bigger company better service when that is quite the opposite.
Many people are driven by price due to the climate, I would rather pay a bit extra and get the quality and service and somebody I get on with.
If you are expecting something off the shelf in a week this is not for you, if you want something customised, special and outstanding workmanship and you a prepared to wait a few months this is the guy to deal with.
You will not be disappointed with the outcome Rod will deliver. I would recommend Rod Waterhouse to anyone who is looking to purchase a katana sword there are no hidden charges you get what you pay for and for me it has been money well spent.
Thank you Rod for everything it is much appreciated I will definitely be coming back to you without a shadow of a doubt.

MATT BLACK SAYA + BLACK LEATHER ITO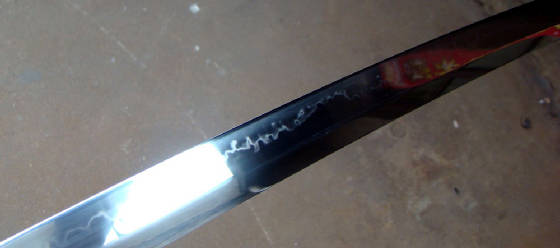 CHOJI STYLE HAMON
Hi Rod,
I would like to thank you very much for all the help and advice that you gave me in choosing the katana, when it arrived to say that I was pleased with it was an understatement. Everything about the katana was top class, I have been practising martial arts since 1977 and have been meaning to treat myself to a high quality katana for a long time now but finding a quality sword has at a reasonable price is not easy. When I came across your web site I was very impressed with both the quality and different options of finish on the sword. I ended up purchasing one of your top end RGW 1095 Katana, with the Kobuse Laminated with clay hardened folded steel, without Bo-Hi, Saya with Ray Skin inlay and full Same Ray Skin wrap.
Every aspect of the Katana screams quality at you and every time I look and handle it it makes me feel like a young child opening its Christmas presents as it gives me so much pleasure, for me both the balance and handling of the katana is perfect.
I have no hesitation in recommending recommending both the swords you sell and the advice you give, the swords are almost works of art but so functional as well.
Thank you once again and I will be back again for another blade (hopefully soon)
Best wishes John
hubble55uk@yahoo.co.uk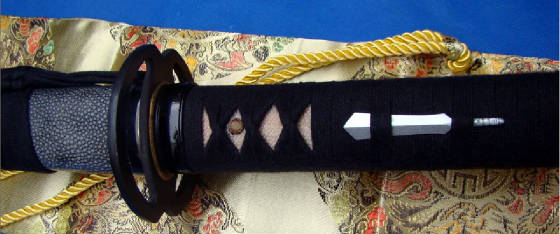 CUSTOM MADE SILVER MENUKI WITH SIMPLE BLACK MUSASHI STYLE TSUBA
CUSTOM ENGRAVING TO HABAKI

LARGER 26mm SORI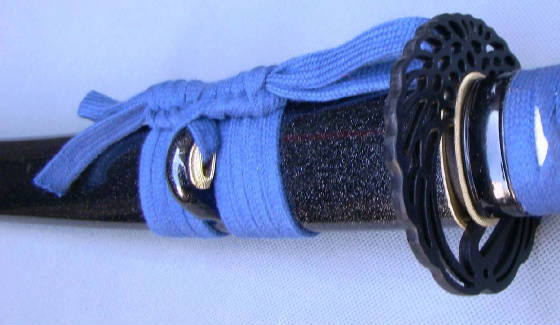 SAYA HIGHLIGHTED WITH SILVER SPECKLE UNDER GLOSS LAQUER FINISH

MAROON GLOSS SAYA HIGHLIGHTED WITH SILVER FLECK