.
I AM BOTH PLEASED AND PROUD TO ANNOUNCE THE RGW KATANA RANGE.AS MANY OF YOU ALREADY KNOW THIS HAS BEEN SEVERAL YEARS IN THE MAKING AND IS NOW AVAILABLE TO ORDER,I STATE THIS AS YOUR KATANA IS AVAILABLE WITH SEVERAL CHOICES OF KOSHIRAE,ITO,SAME ETC. AND WILL HAVE A DELIVERY TIME APPROX. 8 -12 WEEKS FROM CLEARED PAYMENT DATE.THIS TIME WILL HAVE TO REMAIN VARIABLE TO ALLOW FOR CUSTOMS CLEARANCE ETC. BUT WILL IN MOST CASES BE SO AND YOU WILL BE KEPT UP TO DATE ON YOUR ORDER PROGRESS WHEN REQUESTED.
ALL ITEMS OF YOUR KATANA SUCH AS BLADE AND TSUKA LENGTH CAN BE PRODUCED TO YOUR SPECIFICATION IF REQUIRED AND OFTEN AT NO ADDITIONAL COST.

As a mixed martial arts instructor/practitioner over 22 years (and Cinematographer) I have always been on the lookout for my dream katana, that would both suit my training needs, aswell as be true to traditional Japanese sword design and quality. When i came across RGW Handforged Katanas online, I was really excited to find a seller who obviously knew about the products he was selling, and offered a large range of quiality blades that were aimed at the serious practitioner.
As the market is flooded with low quality swords, and many dealers overseas seem to roll out massproduced display swords, I was very surprised to find a seller who not only delivered top quality, but at unbelievable prices for what you get.
I decided that the RGW 1095 CLAY TEMPERED FOLDED STEEL blade was the one for me. As I know how many hundreds of hours are spent in the process of selecting the forging materials, melting, folding, shaping the steel, not to mention the refined and expert work it takes to temper and curve the blade, I could not believe i had all these choices at my fingertips, and it could be delivered to my door here in the UK.
After recieving my katana, I have put it to the test in every way. It feels wonderful in my hand, it feels well balanced, solidly put together, and has obviously been built with great care and admiration. The handle (Tsuka) is the perfect length for me (28.5cm) as it provides excellent grip and leverage, but is not so long as to poke into my arms or ribs on tighter movements and forms. With many swords it is also too short, which is a fast way to get strain injuries in your wrists, not to mention dangerous loss of control.
The blade is beautifully curved, which delivers a smooth slicing action, where the edge follows your hand, without any loss of power. This also makes the draw very natural, without any over reaching. It is gracefully designed with a clear 'Hamon' line that depicts a traditional 'mountain scape', rather than the mechanical pattern grind or acid edge so often seen in inferiour swords.
The blade itself is nicely thick, with a solid feel on impact, and none of the cheap alloy vibration one often feels (and hears). I chose to have no 'Bo-hi', as i wanted a sword that would not only cut cleanly, but also provide the weight i needed to improve my grip strength and arm/shoulder speed and power.
The 'Same' is a nice thick quality ray skin, not the offcut patches often used. The 'Ito' and 'Sageo' are neatly and tightly braded, as to provide a sure grip, yet still ellegant and proudly presented. The handle is held together by traditional bamboo mekugi pins, which means i know i always have the opertunity to change the design of the sword in the future, if i want to. This means you have a fully customised sword for life, which can be the accurate extention of your arm, and suit your style and body, which i believe is the only way in which a samurai would have originally chosen a blade to live along side and depend on.
All in all, I would highly recommend this company to any serious blade practitioner, or purely collectors, as you get a great flexible service, which delivers a sword that is amazing for the price you pay. I think only the best swordsmiths/designers fabricate blades with the care and attention to detail, they would put into making their own sword. This is definately the case here.
Thanks again.
Louie Blystad-Collins
1095 CLAY HARDENED £325.00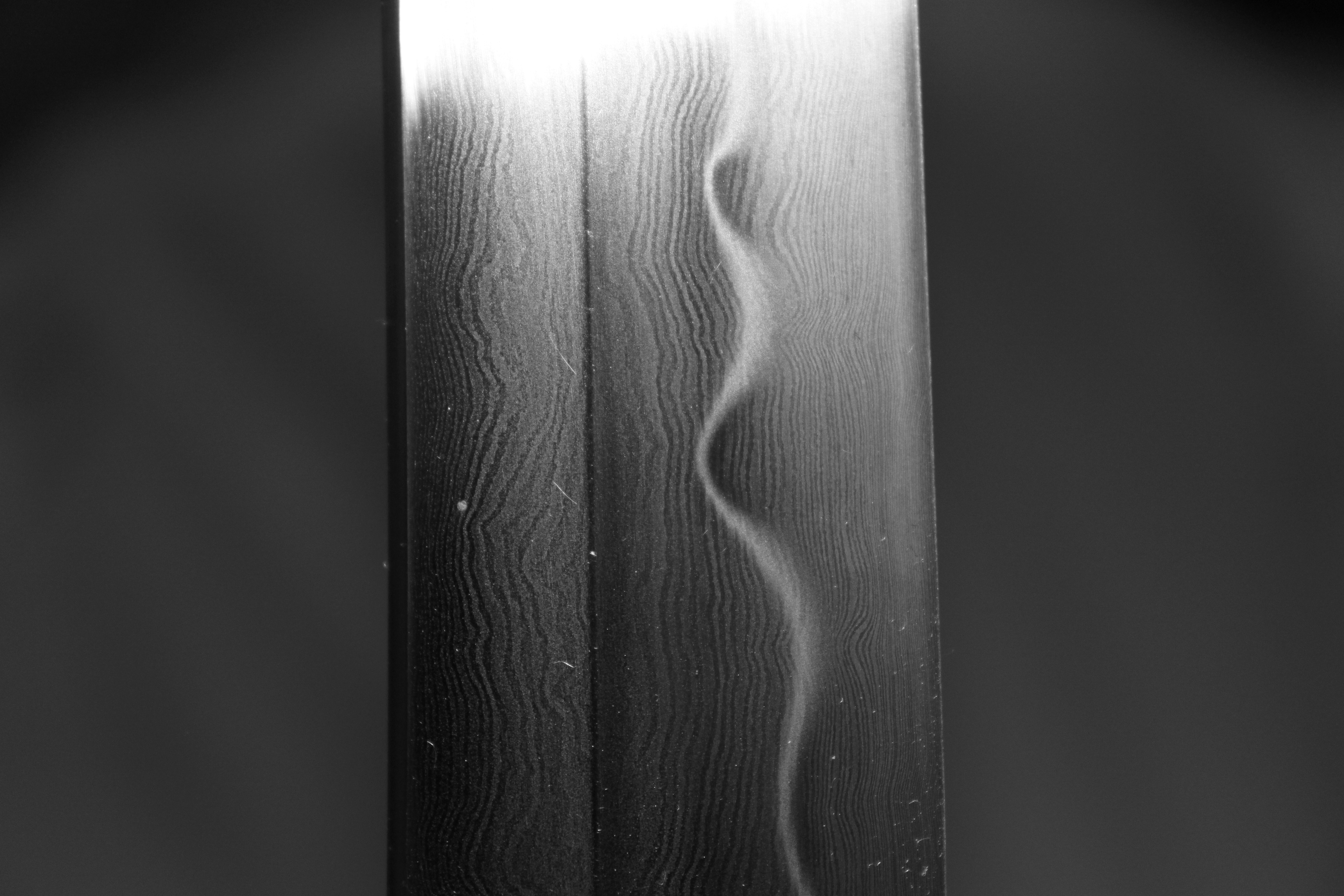 Hi Rod,
I received my RGW sword on saturday, and I must say I'm extremely happy with item itself, as well as the service and advice you offered.
The RGW katana is of extremely high build quality, there are so many fine details of craftsmenship which can only be seen when one is holding the sword, even the hi-res photos on your site do not do it justice. The balance and weight are perfect for a sword of its length. Even the silk bag is one of the nicest i've seen! I'm glad I paid a little extra for one of your custom blades - it was really worth it!
leon@vr16.com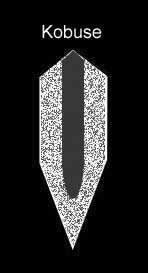 THE KOBUSE LAMINATION IS A TECHNIQUE WHERE A SOFTER INNER STEEL IS WRAPPED WITH A HARDER OUTER STEEL,THIS IS ONE OF MANY TRADITIONAL METHODS THAT WAS AND IS STILL USED TODAY AND ONE THAT I HAVE CHOSEN TO BE,IN MY OPINION,THE MOST PRCTICAL AND SUITABLE FOR TODAYS MODERN STEELS.THE INNER SOFTER CORE STEEL IS WRAPPED WITH FOLDED CLAY HARDENED 1095 STEEL.THIS TYPE OF LAMINATION IS VERY DIFFICULT TO PRODUCE CORRECTLY SO SOME ADDITIONAL TIME IS REQUIRED FOR THE FORGE.
THE KOBUSE LAMINATED BLADE WILL COME WITH THE HANDFORGED,HANDSHAPED AND HAND FINISHED KISSAKI PICTURED BELOW ALTHOUGH THIS IS AVAILABLE AS AN EXTRA TO ALL MY KATANA.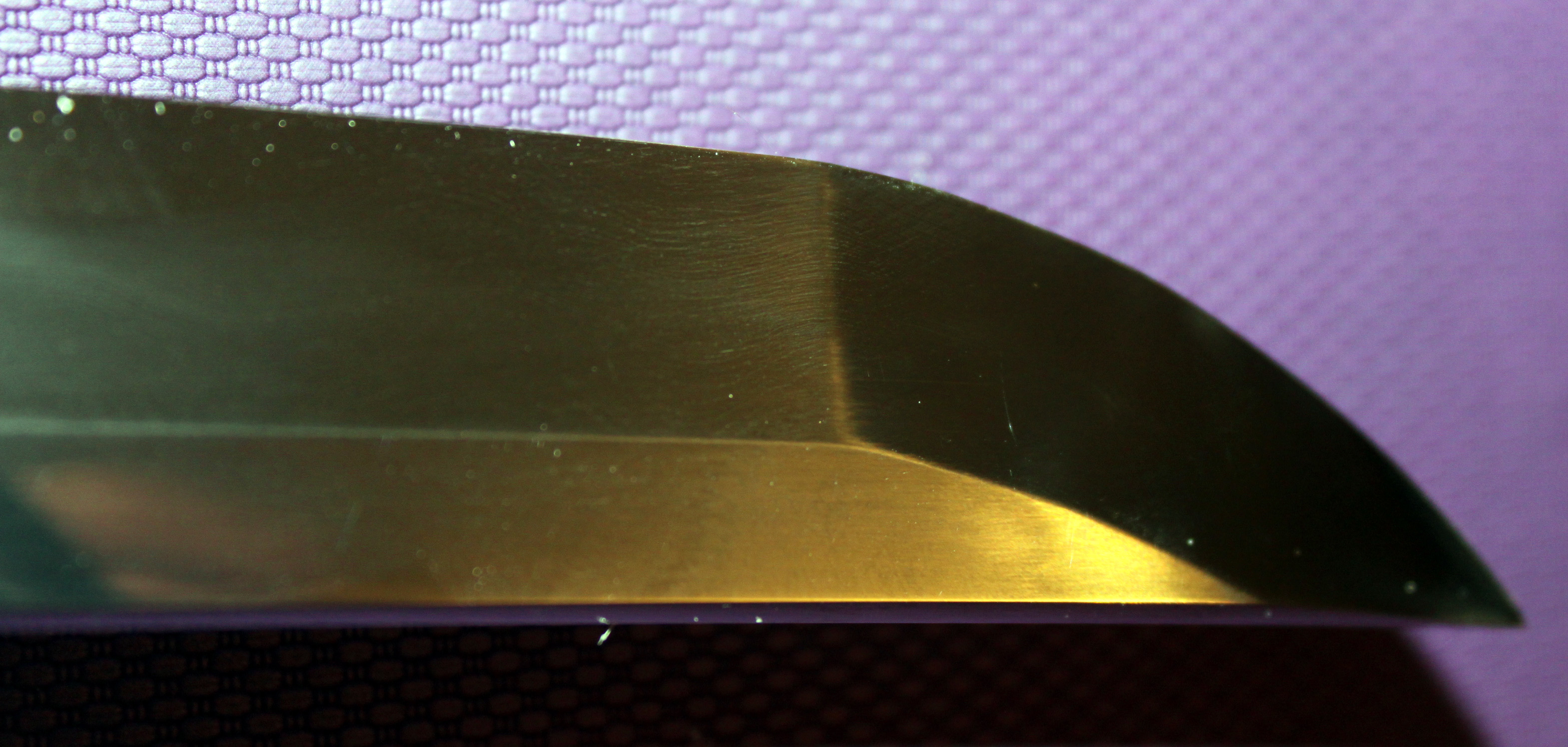 1095 CLAY HARDENED FOLDED STEEL BLADE £385.00
Hi Rod,
What can I say, but thank you so much!! I have never opened a package so carefully in all my life. A totally stunning work of art, the hamon and folds are so prominent. The weight feels amazing, the whole sword in fact feels great in my hands. The seal made with the Saya when re-sheathing is fantastic.
Very pleased indeed and well worth the wait, and I will be sure to recommend you to anyone who speaks to me about the purchase of a Shinken.